Flintstone, Georgia, United States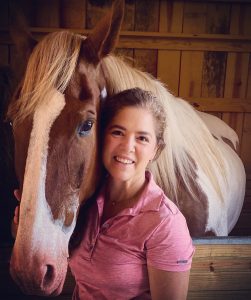 I have always had a deep love for animals and have always admired and loved horses but it wasn't until I began working with them for the therapeutic benefit that they provide to people that my life became quite centered around them.  In the course of my journey, I came to realize that the horses were helping the people but the horses weren't always receiving the same benefit.  It was then that I made my commitment to help the horse.  
I learned about the Masterson Method when I saw the techniques being used on a horse that was exhibiting some behavioral issues but it wasn't until I saw the techniques being used on a horse that was having some performance issues that the profoundness of the method became evident. This was a horse that I trail rode with and the owner was contemplating if the horse was ready to retire due to how uncomfortable he was on the trail. The horse was not of retirement age. Two days after his first Masterson Method session, we went for a trail ride and he was a different horse, literally from the minute that he hit the trail.  He looked as if he was walking on a cloud and I had never seen that much movement in his hind end.  He immediately went into a full gallop the minute he got into the woods, it was like he was saying, "I'm back and I feel incredible!"  The look on his owner's face said it all - he had gotten his horse back that day!  I watched that horse be transformed right in front of my very eyes.  My Masterson Method journey began the next day!  I had found what I had been looking for to help the horse.  
I am extremely passionate about this work because I have seen first hand what it can do for a horse and for the horse and rider. The thing that I love the most about the Masterson Method is that it is something that you do with the horse rather than to the horse which follows my lifelong commitment to horsemanship by continuing to learn and being the best partner that I can be for the horse.  
I work with a wide variety of equine breeds, ages and disciplines:  performance, pleasure, working, therapy, pasture, etc.  This method benefits ALL horses, no matter what their job is.  I live on a small farm in Flintstone, GA and serve the Greater Chattanooga Tri-state area (SE Tennessee, NW Georgia and NE Alabama).