Shaunavon, SK, Canada, Global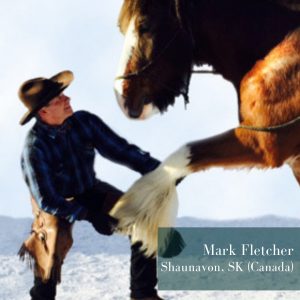 Mark presently resides in Saskatchewan. Retired after 42 wildfire seasons as a firefighter, smoke jumper, trainer and manager he is now committed full time to work with horses. He'll entertain you with horse stories from the mountains to fox hunting in New York, to television appearances.
Mark's interest in equine bodywork began in 2000 when he studied to become a horseshoer. His teacher and others were experimenting with techniques that piqued his interest enough to seek training and certification in equine sports massage. At the time, Mark owned a trail riding business and needed to find a way to help his hard-working equine partners stay sound
As time evolved Mark studied and practiced equine Myo-fascia release and physical therapy techniques learned from successful therapists and practitioners in America and Canada.
When Mark found The Masterson Method in 2015 he found the methodology, principles and techniques completely revolutionized his understanding of the equine and transformed his equine bodywork approach going forward.
With a "mindful" horsemanship background Mark finds The Masterson Method compliments his goal of helping horses be healthy horses. He finds the Masterson Method results amazing and strives to continue his education and understanding in biomechanics and anatomy to perfect his practice.
Mark finds The Masterson Method family and environment a positive and progressive way to learn while collaborating and networking with other practitioners and students. He says "peer review and assistance is a great way to stay current and augment my ability to help the clients I serve."
Mark reflects, "any equine performing any discipline at any level from Grand Prix dressage to mountain packers, therapy, and rodeo horses, hunter/jumpers to pleasure can all benefit from this results-based, interactive method of alleviating soreness, strain, and tension and enhancing performance."
Mark is keen to meet and serve present and new clients, both western and English, all across Canada and Alaska and is willing to travel to do so. He's available to teach Weekend Seminars in Canada from coast to coast. He is also an Advanced Instructor & Canadian Clinic Coordinator.