Woodacre, California, United States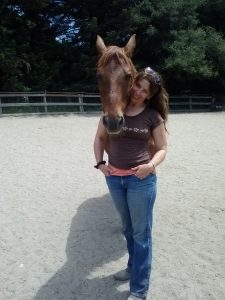 Dianne has loved horses all her life. She has been doing bodywork with horses since 2010. Dianne has also been a Certified Massage Therapist for humans for more than 20 years and prior to that she had a successful career as a professional dancer in NYC.
Dianne's passion of combining her love of healing, somatic awareness in the body, intuitive work and balanced embodied movement comes easily together in her work with horses. Her equine bodywork business, Equine Natural Feel focuses on the Masterson work . She also enjoys combining bodywork sessions for humans and horses to better optimize the positive effects of the horse's improvements with the Masterson work.
Dianne is also passionate about teaching the Masterson Method as part of her practice and works with students and horse owners and with wellness programs for specific riding groups such as the Mounted Police and Equestrian organizations in the bay area. She enjoys helping owners come into a more harmonious relationship and attunement with their horses and loves the educational opportunities that naturally arise when owners see their horses respond so well to this work.
Dianne loves trail riding with her horse in the beautiful landscapes of West Marin and she lives close by with her son and husband. She thoroughly enjoys working with inspirational trainers who value soft, balanced riding in a way that completely compliments the values of the Masterson work.