Arundel, West Sussex, United Kingdom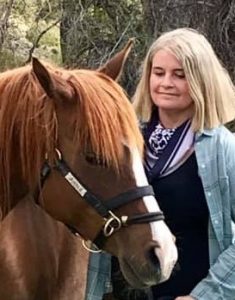 Since I was 2 years old in London, Islington I was obsessed with horses and luckily the local council built a new stable in East London when I was 7 years old which my parents kindly supported. After my British Horse Society training and qualifications, then later Equine Science (Hons) Degree, I went on a very different track into the world of work/travel. Unfortunately, as more was demanded in the modern day, I started to notice changes, mainly all over body pain, through stress, overwork and "burnout". I was diagnosed with Fibromyalgia which changes the way the central nervous system processes the pain messages carried around the body. In my recovery, I started to follow a completely different path of Reiki and by doing this stumbled across Reiki for horses. This ignited something back to my happiest years. Not only this, it also sparked an interest and research into horses' physical pain with the link to their behaviour.
I followed my instinct on a long journey to the US in Wyoming to train with a horse whisperer, including Equine Reiki.  Gradually, being back within the horse's energy field during the Reiki, I noticed a physical change in my own body as if my nervous system had been reset. I started to heal. As the horse whisperer said "the horses have called you back". Watching and captivated by the Master himself, Jim Masterson, during my training, further confirmed that physical pain (or discomfort) no matter how slight can affect behaviour and performance. I consider it now an honour to be able to help our equines find that energy and physical balance, as I did, using all my equine experience combined with both the Masterson Method® and Equine Reiki, improving their movement, behaviour and performance. I also discovered a surprising gift of Equine Communication and offer this as a separate service with an owner guided meditation within my business that is; Asking Horses®.