Albia, Iowa, United States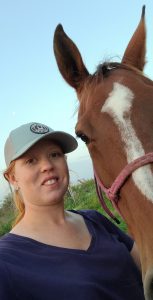 I was raised on a small cattle farm that still works cattle with horses and grew up riding daily. I was riding horses before I could walk and really grew up loving the horse. I have been a long time barrel racer and 3rd generation rodeo athlete. I first started competing in youth rodeos and continued through high school and now as an adult. As my love for horses grew I became interested in training horses as well. I now start colts and train barrel horses for myself and the public. I love the competition and the rush from growing with a horse you have trained yourself.
I have used The Masterson Method® for the past 10 years.  For years it has helped my horses stay feeling their best. Recently, I had a horse with lots of performance issues and Masterson sessions made amazing changes in my horse, seeing my horse go from a pained horse with severe gate issues to a consistent calm pleasurable horse changed my life in more ways then one and I decided to begin the process of becoming certified myself. Having the knowledge of Masterson helped my horses stay feeling and performing their best and I'm excited to spread my knowledge with my community.
https://www.facebook.com/KeetonBalancedHorsemanship