Cedarburg, Wisconsin, United States
R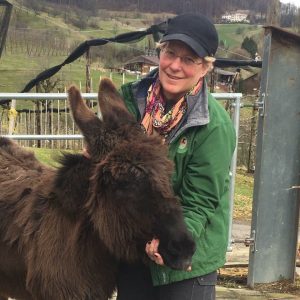 aised on a large Arabian horse breeding ranch in sunny Southern California and the daughter of a farrier, Becky Tenges grew up at the feet and on the backs of horses. From their over one hundred horses and the thousands more she held over the years while her dad did their feet, Becky learned the language of horses, the dialog of the herd and how to be safe with these amazing creatures.
Becky earned a degree in Agricultural Economics from the University of California, Davis and then promptly jetted off to New York City where, deserting the passions of her youth for the promise of her future, she joined the world of finance and investment banking. After nearly twenty years in this industry in New York, Chicago and Milwaukee, Becky and her husband became the ecstatic parents of their two Russian-born daughters and Becky retired from that crazy world of finance. Thankfully, it was her two daughters who awoke in her the love and knowledge of horses that lay dormant for so many years.
Initially brought back to horses for the therapeutic benefits they would provide to her eldest daughter, it has been the unrelenting drive and desire of her younger daughter which has fueled Becky's own return to active involvement with horses. Like many parents, Becky put the interests and desires of her kids above her own, so until 2011, Becky's participation in her daughter's horse activities was limited to Chauffeur, Paying Agent, Chief Safety Officer and Dispenser of Equine Wisdom to her appreciative (thankfully) daughter.
In 2011, Becky's daughter 'ran out of horses' at their training barn that was suitable to her advancing abilities. Enter Prince Ivan, pictured above with Becky, into the Tenges family. After a successful first season on the Hunter A-Circuit, but in an aggravating turn of events, the Prince began to exhibit intermittent lameness not long after the end of his first show season. This caused the head trainer of their barn to bring in a new farrier to try to sort out the perplexing lameness issues.
This new farrier helped to solve the issues and to bring Prince Ivan back to soundness. His skill, knowledge, wisdom, and demeanor reminded Becky of her recently deceased dad and each time the farrier came to shoe, Becky spent time visiting and chatting with him. On one of his visits, the farrier declared that the horse he was working on was in such discomfort that it 'needed a good equine masseuse'...at which point he looked at Becky and asked: "Have you guys got a good one of those around here?" In that instant, Becky saw the path for how to use her wealth of horse experience and knowledge.
An evening of internet research brought her to The Masterson Method and YouTube videos of Jim demonstrating his work. Drawn to the gentle nature of Jim's Method; the logic of his interactive approach to alleviating soreness, strain, and tension; and that Jim's Method is something you do with the horse, rather than to the horse, Becky signed up for the next Certification Course...two weeks later and completed and equine anatomy course and the Masterson Method certification requirements over the course of the next 8 months. And the rest, as they say, is history.