Culver City, California, United States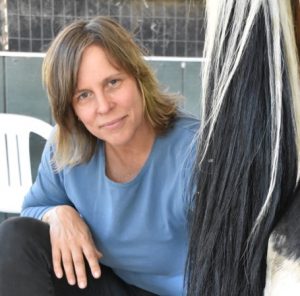 Amelia Nalli rekindled her love for horseback riding when her daughter started riding lessons 15 years ago. From western pleasure in Palos Verdes to trail riding in the Angeles National Forest, she is now training in the elements of dressage.
An avid learner, Amelia obsessively watched natural horsemanship videos, learning techniques to upgrade her ground work and riding skills. Landing on a video of Jim Masterson demonstrating lateral cervical flexion, she immediately purchased his Beyond Horsemanship book and DVD. The same day she searched for a reaction on a horses' neck and by the time the horse released, she was hooked. She had found the connection to horses she'd been looking for and the technique worked on every horse she worked with.
Each day since has been a deepening of the horse/human connection and a clearer understanding of what a horse is trying to convey through body language. While completing the fieldwork for certification, some horse owners were interested in learning about the method, so Amelia taught them the basics of Search-Response-Stay-Release. The beauty of seeing someone's face light up when connecting with a horse is her favorite part of The Masterson Method.
Amelia volunteers at the Shoestring Stables in Lakewood, California and at the Duchess Sanctuary in Oregon, donating massage hours to horses that have been rescued. This method works so well on all interactions with horses, even when a horse cannot be physically touched. Getting certified in the Masterson Method Equine Specialist program has deepened her understanding of the horse's response to pressure and discovered new ways of connecting to less privileged equines and the people who care for them.
Instagram: @equine.bodywork