Drayton Valley, Alberta, Canada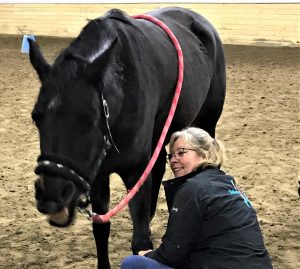 Takoda Equine Therapy began out of my life long love for all animals, especially horses.  I have always believed that horse's do speak and if we are intuitive enough to listen, we can help them release most, if not all of the accumulated tension whether it is physical or mental.  Being an Equine Canada Coach, I know first hand how hard lesson horses work and have an un-waivering desire to keep them sound, happy and healthy.  They are dealing with unbalanced riders, hands that need to learn softness and feel, handlers so focused on learning or doing that they sometimes forget that the horse is a horse, a living creature that is incredibly tuned in and connected to everything going on around him.  It has always or should be our responsibility to work with the horse and not against him.  It was amazing when I found out about Jim and The Masterson Method® as it was finally the missing piece to the puzzle that I was looking for.
I read the Beyond Horse Massage book and watched the DVD.  Both were excellent and then as destiny would have it, the two-day weekend course was being offered very close to home.  I signed up and could not believe the results and connections the horses were giving with such a light touch.  Being a lifelong learner, I knew that I wanted to be certified with this method.  The education is second to none, the results speak for themselves and I am proud to be a MMCP and Coach.  There is nothing more rewarding than seeing such profound changes in horses with such a light touch.  I have worked with all disciplines, genders, pasture ponies, slips, falls and also with a veterinarian for a horse involved in a severe trailer accident.  As a firm believer and promoter of The Masterson Method®, I also enjoy teaching interactive demo/workshops to owners/handlers and the bladder meridian to 4-H and pony clubs.