Drayton Valley, AB, Canada, Global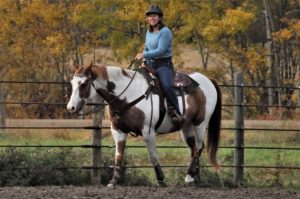 Wendy was born and raised in the Drayton Valley area and has always shared a deep connection with all animals, but especially horses. She started out riding her Uncles and Friends horses, until she acquired her own horse at the age of fourteen. She enjoyed the care, grooming and bonding just as much as the riding and a lifelong passion was born.
After becoming a Certified Equine Canada Coach in 2009, Wendy realized how hard the horses work and that they were carrying tension. Changing her program and having horses "hauled in" for lessons meant noticing more horses in need of relief. Horses carry tension mainly because they don't want to feel vulnerable or weak as all prey animals do, but it can negatively affect their attitude as well as performance. Believing that "horses do speak to those who listen," she wanted to listen and do something to help the horses.
Not remembering how it happened but, The Beyond Horse Massage book and DVD somehow ended up in her hands. She was intrigued and fascinated and decided to sign up for the weekend clinic. It was amazing to see how such a light touch could release tension, promote relaxation and improve performance. Wendy is proud to be a MMCP and is so grateful to Jim Masterson, his Coaches and Mentors that helped along her journey. This is a rewarding method where the results speak for themselves. Wendy is devoted to helping all breeds and disciplines of horses.