San Jose, California, United States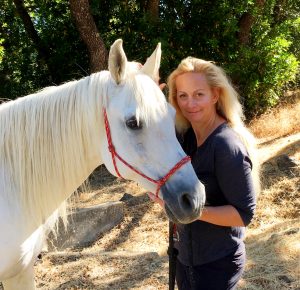 Tamara has loved horses since she was three years old. Their quiet softness and friendship was a constant comfort as she traveled around the world. She has always believed that what horses let people do is quite extraordinary and that they give us far more than most people are aware of. She moved to the USA 10 years ago with her family and was soon reconnected with horses.
Her journey with the Masterson Method began when she met a misunderstood mare who had an extremely bad reputation and was called every mean name under the sun. As she rode this very forward endurance horse, who now goes by the name of Pixie, Tamara never saw the bad horse, only a horse in pain. In the journey to help Pixie, Tamara found the Masterson Method and never looked back.
She has since helped many horses achieve their potential and do better for their owners. Tamara is passionate about sharing the Masterson Method and improving the understanding between horses and people. Her goal is to help horses become positive and balanced. A balanced horse is a confident, happy horse.
Tamara's clients range from trail riding horses to endurance athletes to show jumpers. Tamara works across the San Francisco Bay Area and is happy to travel to help any horse be its best.