Corwen, United Kingdom, Global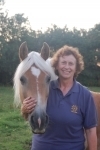 I have been around horses almost my whole life, from working at a local riding school when I was eleven, getting rides on anything and everything, just as a lot of kids do.
I have competed in showing, dressage, driving trials, as well as breaking and bringing on youngsters, retraining horses, in fact almost anything that involved horses - except jumping - I like to keep my feet firmly on the ground! My passion for horses has led to trail riding in Montana, Colorado and NorthCarolina; riding Arab stallions in Egypt; Conemara ponies in Ireland; driving singles and pairs up to national level - and eventually, through looking for treatments for my elderly Thoroughbred mare, to training with Jim Masterson.
Since beginning to work with Jim in late 2010, I have worked on over 50 horses, and have a well-established client base. I have worked on horses from many different competitive backgrounds - showjumpers, dressage horses, polo ponies, as well as Pony Club and Riding Club horses, and hunters. I also work on "Happy Hackers", on arthritic horses, elderly horses, horses on box rest - and everything from Shetland ponies to Shire horses. I work throughout the UK and Ireland,and am happy to travel almost anywhere!