Ottawa, ON, Canada, Global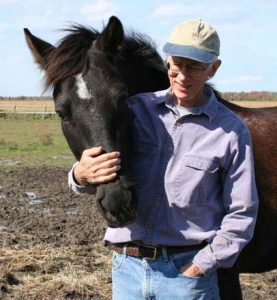 In 1999, with two children having moved on in life, Phil's wife Sandy began taking riding lessons. This led to the purchase of a gelding with challenges, and that horse relationship ended two years later. Then came Sylvia, a 16.3 hand Anglo-Arab mare with a cross country background, and no respect for people. There the adventure started.
Realizing that it was a situation of developing more skills, or get rid of the horse, a study began for skills to be able to cope with what she was presenting. Insight was gained from several respected horsemen in an effort to add more tools to the training toolbox.
Later, in 2006, Pyper was acquired, a mature chestnut mare. Phil was looking for a way to continue to connect with both mares and in early 2012, a web search for non-invasive massage turned up the Masterson Method™. A weekend seminar in upstate New York began the journey towards being a certified practitioner.
He was taken by the gentleness of the approach, the reaction to seemingly invisible touches and techniques, and the subtle changes in movement that he saw in his own horses. The horses began to offer places on their bodies that they wanted to be worked upon, and to relax into the techniques, so the connection being looked for was further built upon.
In Canada there are times of the year that you cannot ride due to climate, but no time of the year when you cannot work on releasing stress in your horses, and on the bond between you and them.
One of the respected horsemen mentioned earlier advocates being a lifelong learner, to investigate other people's belief systems with respect to horses, and then forge your own. The Masterson Method™ has become an integrated part of Phil's knowledge base.