Setaria, South Africa, Global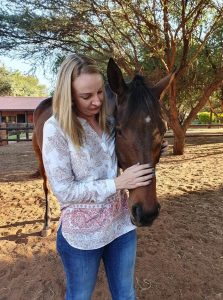 I grew up in a non-horsey home, but had a love for horses as long as I can remember. I was only able to own my first horse as an adult. Wanting to learn more about horsemanship and understanding my horse better I started looking for someone to bodywork on my horse. I came across Rob and Chantal Holder who was willing to travel to the area I live.
Not long after Rob and Chantal Holder came to treat horses at the yard with the Masterson Method (with amazing results) they hosted the first Masterson method weekend seminar in South Africa. I attended and my journey to become a certified practitioner started. Being able to read a horse's responses and helping them has opened a whole new world for me.
It's been an amazing journey, learning and seeing great results both performance wise and mentally in a horse after a treatment.