Squaw Valley, California, United States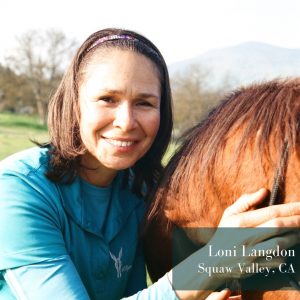 Adventurous in spirit and curious by nature, Loni has had a lifelong love affair with equines and the outdoors. She's explored remote areas of California and guided in the Sierra Nevada mountains. She's traveled thousands of miles with mules as her closest coworkers. Caring for the equines in her string and sharing wild places with clients has been fun and rewarding.
Loni has always wanted to find more ways to be of service to animals and to have a greater understanding of the human/equine connection. She apprenticed for seven years with a natural horseman and was then introduced to The Masterson Method. In 2013, Loni realized a dream of winning a year-end championship with her mule, Feather. Loni attributes much of their success to The Masterson Method.
As a Certified Practitioner and Instructor of The Masterson Method of Integrated Equine Performance Bodywork, her goal is to share these powerful, yet gentle methods with as many people and equines as she can reach. Loni simply loves putting her hands on equines and listening to what they share through their body language. She also enjoys instructing Weekend Workshops because they create a depth of experience that leaves a lasting impact with participants. Loni's equine performance bodywork practice serves the Central California area. She is willing to travel to your barn, show or event. She enjoys offering demonstrations and public speaking to groups who love horses, mules and/or donkeys.
She has a Bachelor of Science degree in Outdoor Leadership from San Diego State University. She enjoys riding and showing her mules, living close to the land, growing fruits and vegetables and raising Corriente cattle. You can find her in the foothills of Central California, near King's Canyon National Park on the L/Z Ranch which she shares with her husband Zack and their fur family.