Brainerd, Minnesota, United States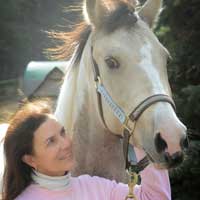 Since childhood Lise has had an interest in horses, taking advantage of any chance to take lessons or spend time with horse-related activities. It wasn't until adulthood that the opportunity for owning horses became possible.
Over the past 20 years, she has participated in a variety of equine activities including distance riding competitions, dressage and trail riding. She has also been involved with Mounted Eagles, a therapeutic riding program for the last 5 years.
Horses have been a constant in her adult life as personal and career changes as a nurse practitioner presented. Horses have provided her with the opportunity to meet new people and learn new skills. Her own horses have been an important part of creating a sense of balance in life over the years.
An injury to her endurance horse several years ago led to an interest in equine massage and certification in equine sports massage therapy. She has also been interested in complementary therapies for horses including acupressure and Reiki.
More recently, challenges with performance and behavior with her own horses led her to find The Masterson Method. After attending the weekend seminar, she was sure that she had found a unique and effective way of working with horses. The journey to becoming a certified practitioner in The Masterson Method has reinforced this. The interaction and response of the horse using The Masterson Method has been rewarding as she has seen improvement in physical and behavioral issues and more importantly improvement in her interactions and relationship with horses. Practicing the Masterson Method has increased her awareness of how "less is more" in many aspects of life with both horses and people.