Plymouth, Massachusetts, United States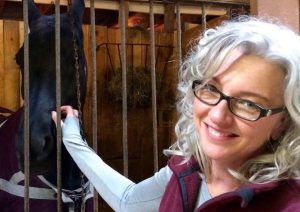 Jennifer loves owning and showing American Saddlebreds in the discipline of Saddle seat. However, as repetitive issues came up about her horse's well being, she began researching a better way to find the true cause rather than continue to simply treat the symptoms.
As a runner she is intimately aware of the importance of a "body in motion". Recognizing that regular bodywork helps keep her on pace, she has married her athletic experience & knowledge into her passion for horses and has opened a door to something new that she truly loves.
She is certified in Equine Massage Therapy from the Bancroft School of Massage in Worcester and is thrilled to add The Masterson Method interactive bodywork approach to her toolbox. As an MMCP she is able work with your horse and offer feedback of reaction points and restriction patterns, all while releasing tension and helping your horse work towards their best body in motion.