Tampa, Florida, United States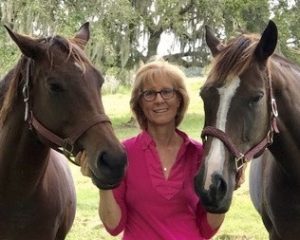 Cynthia received her BBA in International Business from George Washington University. After working in the corporate world for several years, she married and stayed home to raise her four children, 3 of which were born at home. Cynthia has studied nutrition for over 40 years and believes that well-being starts with the food you put in your body. She founded and managed an organic produce co-op for ten years while raising her children. She also teaches the raw food diet for cats and dogs. Additionally, she has been using homeopathy for over 21 years for her family and animals. Cynthia has been a yoga practitioner for 13 years and has 2 certifications in Yoga instruction including studying under Bryan Kest (poweryoga.com.) She has always had a special bond with animals, having grown up with many animals. She currently loves and cares for her 12 dogs, 2 cats, 2 parrots (a macaw and a quaker) 2 rats, 2 rescued thoroughbred mares and her rescued BLM donkey. She has received a certification in micro-current therapy and is pursuing certification in micro-current for the Best Vet. She also uses light therapy, Qi Gong, and tuning forks for facilitating healing in horses, dogs, and cats. She loves to ride and is training in dressage with an interest in pursuing Working Equitation.
Cynthia first learned of the Masterson Method and Jim Masterson's Book, Beyond Horse Massage, when she was ordering supplements for her horse online and a pop-up ad kept showing on her computer screen. She ordered the book and the DVD within days of receiving the book. Upon using the techniques and seeing how they both physically and emotionally helped her horse she went to the 2 day course knowing that she was going to pursue certification. She loves the Masterson Method and has deep appreciation for Jim Masterson who developed such a wonderful method to help her and her client's horses.