Ann Arbor, Michigan, United States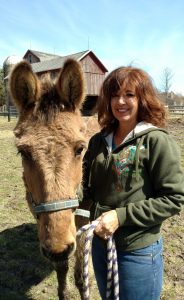 Becky grew up in Dexter, Michigan and has always loved animals and having them around her. She didn't discover horses and the joy of riding until she was in her 30's and helped out a friend at her riding stable in Northern Michigan. She fell in love with "Tommy", a friendly and willing Quarterhorse gelding who opened the door for her into the world of horses.
From here she explored riding by taking Western Pleasure and Hunt Seat lessons.
Once her girls got into riding, it became a family adventure. Since Becky was already a licensed Massage Therapist and Reiki Practitioner, she naturally was drawn to helping horses as well. She became a Certified Equine Sports Massage Therapist, and is now A Masterson Method Certified Practitioner. As soon as Becky discovered the Masterson Method, she knew this was the next important step in helping horses.
This method spoke to her as it uses the horses response to touch to guide you in the bodywork. The Masterson Method is a language between practitioner and horse. It doesn't take long for the horse to understand that you are speaking their language in order to help them. The horses are participants in their own bodywork; they are honest in what they have to say, and that is the beauty of the Masterson Method.
Becky also volunteers at her local therapeutic riding program, the Humane Society of Huron Valley, and her local meditation center. She lives on her small farm with her husband, their Quarterhorse, Appaloosa, Mule and five curious Alpacas.