Maple Park, Illinois, United States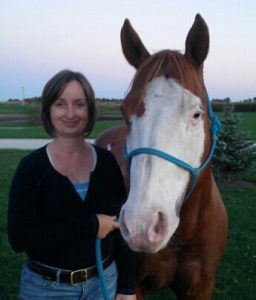 Daniela's journey to Masterson Certification began in the small German village where she was born. Despite the small population, there were horses that enthralled Dani - and thus began the journey. Even with little opportunity for hands-on experience with the horses, she knew that horses would be a part of her life.
The dream accompanied Dani to the United States and to her new life - a life that includes her husband, her career, and the horse she bought shortly after beginning riding lessons.
With her characteristic curiosity and not content to just "be a passenger" on the horse, Dani began to delve deeply into horsemanship - understanding equine physiology and biomechanics, understanding the horse as an athlete, and appreciating the partnership between horse and rider. She began to apply her interest in holistic health to her horse's behavior, movements, nutrition, and conditioning. And, in order to help her horse maintain optimum well-being and balance, Dani began to study equine nutrition, massage, acupressure, Reiki/Energy healing, and essential oil therapies.
The Masterson Method Program complements Dani's strong belief that a holistic, "big picture" point of view should be applied to equine wellness and that the horse is a partner in its wellness. After the initial weekend seminar, Dani decided to pursue the certification program and the opportunity that the Masterson Method provides for her to combine her love of horses and her interest in holistic wellness.
During her journey, Dani has been able to connect and address the performance of equine athletes with their general well-being, balance, conditioning, and strength. Because she rides (pursuing classical and Western dressage), Dani experiences the benefits of Masterson's therapies in her horse. That is a powerful endorsement of the Masterson program as well as an incentive for Dani to help as many horses as possible.
Whatever the discipline or circumstance, from backyard ponies to elite athletes, Dani is helping as many horses as possible have a pain free, happy life and allow them to excel as athletes.