Laramie, Wyoming, United States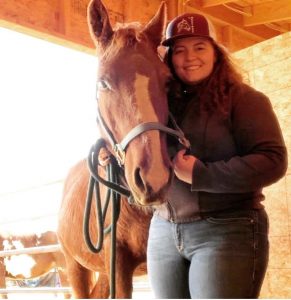 Lindsay has wanted to do more to help the many horses she has been involved with in rehabilitation, training, and recreational settings, but she didn't know what the missing piece was. When training and working around horses, she often got a sense of needing to give "something more" to each horse in order to help them to develop into the best version of themselves. In late 2016, Lindsay found the Masterson Method. She was instantly drawn to it and began trying techniques on a wide range of horses, each improving positively in their respective ways. Prior to Masterson, she was torn between replicating things the way they've always been done and finding a way to allow the horse to participate in their interactions and develop a relationship together.
In the fall of 2017, she was gifted an older mare, Cassie. Cassie had once had a full, working life, but by the time she came to Lindsay, she had a reputation as "the crazy curly" and had numerous physical issues, foundational holes in her previous training, and a resentful attitude. It was then that Lindsay, wanting and needing to help this horse, delved deeper into the Masterson Method. She worked with Cassie's body, mind, and spirit to rehabilitate her into a trusted mount.
Crediting Cassie's seal of approval and being pleased with the drastic physical, mental, and behavioral changes noted by others at the barn, Lindsay worked through the rigorous certification process in the Masterson Method and began offering bodywork sessions around Laramie. She is now proudly offering her certified equine bodywork services to the Cowboy State. Her services are suitable for all disciplines and all horses, including performance and pleasure, rodeo and ranch, retired and juveniles, and last but not least, her favorites - the underdogs.