Englewood, Colorado, United States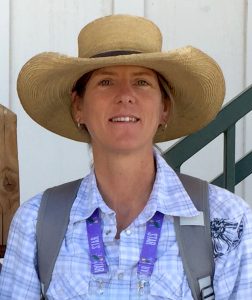 A horse lover and friend since she was a little girl in Southern California, Kimberly always had fun with and had a good connection with horses. Believing back then, she could be around horses everyday after school and on the weekends with no care in the world. As she grew up and her family moved to other locations around the United States, she found herself getting further and further from horses. As time went by, school, work and other relationships took over her time and focus.
After pursuing a career in the graphics and advertising industry for 25 plus years, reaching her goals in that industry, she came to the conclusion it was time for a change. Looking for a new start, somehow working with animals and spending more time outdoors. Exploring new ventures, researching, taking classes online and offline, looking for that new career path.
Back in 2005, Kimberly stumbled across a Horse Training and Management Program in Colorado near her home. Checking out one class to see if it was a good fit, she soon realized after all these years horses where the missing key in her life. Feeling the need, she pursued and completed the Horse Management Certification, while still working her graphics job. Eventually weaning herself off the long time career, transitioning into more horse work. Taking on more horse clients and building her new business. Finally feeling like she came full circle later in life, to be around and working with the magnificent horse.
For the past 12 years Kim has been working with horses and their people. Horsemanship training, management, coaching, classes and workshops. Also, offering aromatherapy. Supporting horse owners and enthusiast under KJ Brand Equine Services. Always looking to add and refine her style, staying a student of the horse, she has continued to explore new classes, and equine modalities, gathering even more tools to better support the horse.
Kimberly met Jim Masterson at the Horse Expo in Denver. Watching him work with a horse, she was intrigued. Shortly after that, Kim signed up for the weekend workshop in Littleton, Colorado. Still intrigued and wanting to learn more, she continued on to the 5-day course and next was the Certification Field Work Program. This truly began the process of really understanding what this bodywork was all about. Studying anatomy, case studies, coaching, mentoring, along with coordination of travel and pulling this all together for the final certification course with Jim Masterson. Kimberly is now proud to be part of the Masterson family of MMCP's, Masterson Method Certified Practitioners. She is dedicated to do her best to uphold the integrity of the horse, staying true to herself in this career, while supporting the horse owner.
Out of many equine modalities, the Masterson Method resonated with her the most. She says, "I could feel and see the positive changes along with getting a unique connection while working with the horse. I thought I was subtle and soft with horses but this modality helped me see how much I needed to lighten and listen even more. I also connect with the horse in a whole new way. It's amazing what can be accomplished with such a light touch."
Kimberly is offering bodywork sessions throughout the greater Denver area. Other locations are possible with prior arrangements. Demos are available at your barn or horse club too.
Continuing the journey of Working for the Welfare of the Horse. Kimberly J Hollstein, MMCP - KJ brand Equine Services