Georgetown, Texas, United States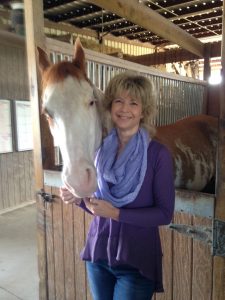 In addition to being a Masterson Method Certified Practitioner, I am also a Masterson Method Equine Specialist. I got my first horse in the 6th grade; he came with a hackamore and no saddle. So began my love affair with horses. I rode every trail that existed near our small farm in Colorado, we trailered for camping in the mountains, did everything a kid should do on their horse. We were an adventurous pair.
In my 20's life took a different turn, and unfortunately, there was no room for a horse. I did not recognize how much I missed them until 20 years later. I began volunteering at a therapy barn so that I could reconnect somehow. Nothing has been the same since. From the moment I touched a horse again, there was no stopping the new trajectory I had set in motion.
I knew I wanted my work to somehow include horses. I thought I would try being a Therapeutic Riding Instructor, but there was always a voice in my head saying it was not the right job, keep searching. I had just started taking riding lessons again, and one day my horse came up lame. As I walked him back to his stall I passed someone doing "something" with a horse I had never seen before. I stopped dead in my tracks and asked, "What are you doing?" She explained she was doing Masterson Method Equine Bodywork and I could not believe my ears. I'd never heard of this, but bells were going off in my head. When she went on to explain that it was something that you and the horse did together, that they were an active participant in the process, my heart sang. I remember saying at that moment, "I'm going to do that.
I am never so happy as when I'm with a horse. Time stops, everything is quiet, we are in the moment. I believe in this work and the positive impact it has on all equines.