Albuquerque, New Mexico, United States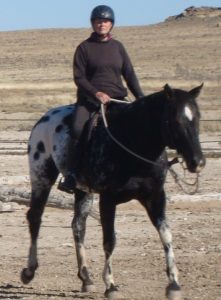 I'm excited to be a Masterson Method Certified Practitioner. I discovered Masterson Method in 2015 & after a year of working with my own horses & a group of EAAL (therapy) equines I was so impressed with the benefits of Masterson Method that I decided to pursue more advanced training & became a Certified Practitioner. I've found Masterson Method to have multiple benefits to equines - physical, mental & emotional. But perhaps the greatest benefit has been the deepening of my connection with the equines I work with & the heightening of sensitivity to their challenges, opening the door to enhanced benefits in the physical/technical application of the Masterson Method. Masterson Method has really raised the bar of my "horsewomanship" & many of my clients are expressing the same discovery with their own equines!
I provide service to the greater Albuquerque areas. I also provide service traveling to outlying areas for multi-day Masterson Method services & often combine Masterson Method services with horsemanship instruction/clinics. Discounts are available for multiple horses & multiple session packages. I primarily work on dressage, hunter/jumper, eventing, EAAL (therapy) & distance competitors, but I'm happy to offer service to any type, breed or discipline of equine. Masterson Method is a great resource for any equine - I firmly believe that it is the best thing that has ever happened to me & my horses! My equestrian background is in the sport horse disciplines, long distance competition & recreational trail riding. Professionally I instruct & train, primarily in the sport horse & recreational trail riding disciplines, teaching from a strong commitment to classical Natural Horsemanship. I've also worked as a PATH Certified EAAL Instructor, Advanced Level for the past 21 years. My EAAL experience has enhanced my appreciation & understanding of the impact of injury & illness on equine & humans alike, with both immediate & long term affects. Please contact me personally to discuss what Masterson Method can offer you & your equines!