Padworth, United Kingdom, Global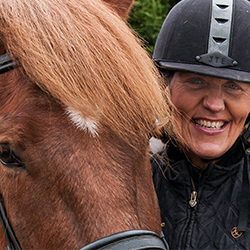 Catherine has worked in the horse industry for 35 - working on Olympic and Grand Prix eventing and dressage yards and as a freelance instructor. Having worried about the physical demands being placed on horses, she has moved towards a classical riding style with some natural horsemanship influences.
Her greatest knowledge in the past was her knowledge that she was missing the elusive "relationship" so vaunted by respected horsemen. Masterson Method immediately allowed her to see the path and she now enjoys that longed-for connection.
Having trained in the Masterson Method she has come to realise just how little attention riders pay to the horse's responses and behaviour during training. Now attuned to the smallest of signals from a horse, she can react quickly to their response - whether it be a change in her training method or giving the horse a physical "check-up". For example a horse not flexing and giving at the neck when asked for full flexion during natural horsemanship training may not be unresponsive or "difficult" - he may just need the vertebrae loosened in his neck.
As a freelance instructor she is often having to respond to clients complaints that their horse is lazy, naughty or one sided. Knowing all that she does now, she is able to truly help both horse and rider.
Introduced to Masterson by another practitioner, and being rather dubious to start - it being unknown and very different to anything seen before - Catherine never ceases to be amazed by the results gained through this method and how clearly the horses love their sessions: Relaxed, healthy equine bodies and relaxed happy equine hearts and minds!