by Megan Dushin, MMCP, MMES, Coach, Instructor
Jim Masterson focuses his practice and teaching of The Masterson Method® on the benefits to the horse. Yet, he will admit that this approach to bodywork reaches far beyond the obvious realm of helping horses release tension. He once said in conversation (as a few of us were reflecting on the personal insights gained from practicing this bodywork), "Who knew just touching a horse could be so transformational?" It heartens me to hear him acknowledge the healing power of The Masterson Method and this way of listening to horses through touch, because it's central to why I practice The Masterson Method: to help both horses and humans.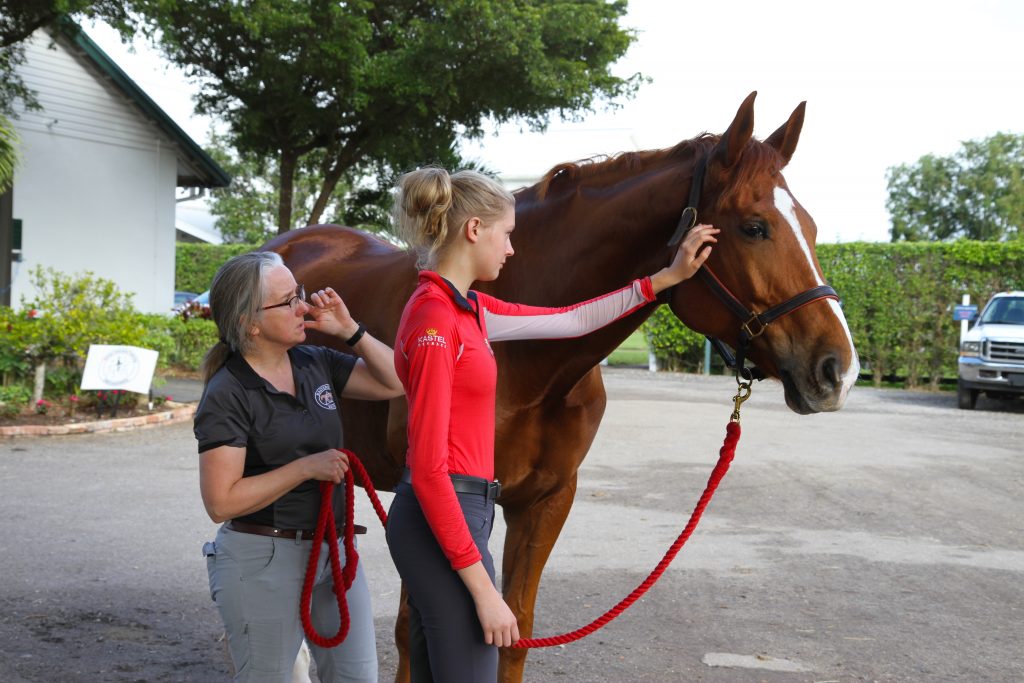 When I started on this journey, I was awestruck at how present and available I was with my 10-year old daughter when I came home after the first day of the foundational training, Beyond Horse Massage Weekend Seminar (a welcome feeling as a busy professional and working mother of two). In the training group photo taken the next day, I look the most relaxed, content, and engaged as I have ever looked in a photograph, a good sign of good things to come!
When I asked a group of Masterson Method practitioners and students how they feel when or after they've completed a bodywork session, they shared that it's grounding, peaceful and even meditative to serve horses in this way. One person said, "I still struggle with being so goal oriented ('I KNOW this is the spot, release it!'), and the horse will always tell me to go back to the 'quiet, listening place' where I forget me and focus on them. Horses are amazing biofeedback systems and The Masterson Method® takes it to another level." These are examples of the beneficial "by-products" of focusing on what the horse is telling us and helping them release neuromuscular tension.
Lise Lunde was my first instructor in 2016, and she so happens to be central to developing our Masterson Method Equine Specialist program where we bring The Masterson Method into the equine-assisted service programs. She is a Masterson Method Certified Practitioner (MMCP), Instructor, Mentor, Coach, and Equine Specialist, and also a PATH International Certified Therapeutic Riding Instructor and Equine Specialist in Mental Health and Learning.
In 2015, Lise was invited to teach at-risk teenage girls living on a residential ranch how to do The Masterson Method with their horses. She was hesitant at first, being a newly certified practitioner at the time, but looking back, this was a critical decision for her own journey as well as for The Masterson Method. She shared that "the level of connection the girls had with their horses was moving, and even brought me to tears. Knowing what the girls had been through in their lives and seeing them so focused on their horses was incredible." Lise later learned that several of those young women had experienced major breakthroughs in their therapy goals. 
When Lise shared this story with Jim, they decided to explore how best to use The Masterson Method to benefit equine-assisted service (EAS) horses and programs. The concept was developed to benefit horses primarily, while also benefiting EAS professionals, volunteers, and program participants, and evolved into the present-day Masterson Method Equine Specialist certification training. We teach EAS professionals and volunteers simple Masterson Method principles and techniques, and we teach them how to show their program participants (clients or students) how to do simple techniques like The Bladder Meridian in a safe and structured setting. It's a wonderful way of showing how sensitive horses are and how we can listen to and respond to horses through light touch.
It's a perfect activity on a rainy day or when the student/client is not able to (or wanting to) ride. In some programs, the Bladder Meridian Technique is used as an intervention to help clients better tune in with the horse, while benefitting the horse!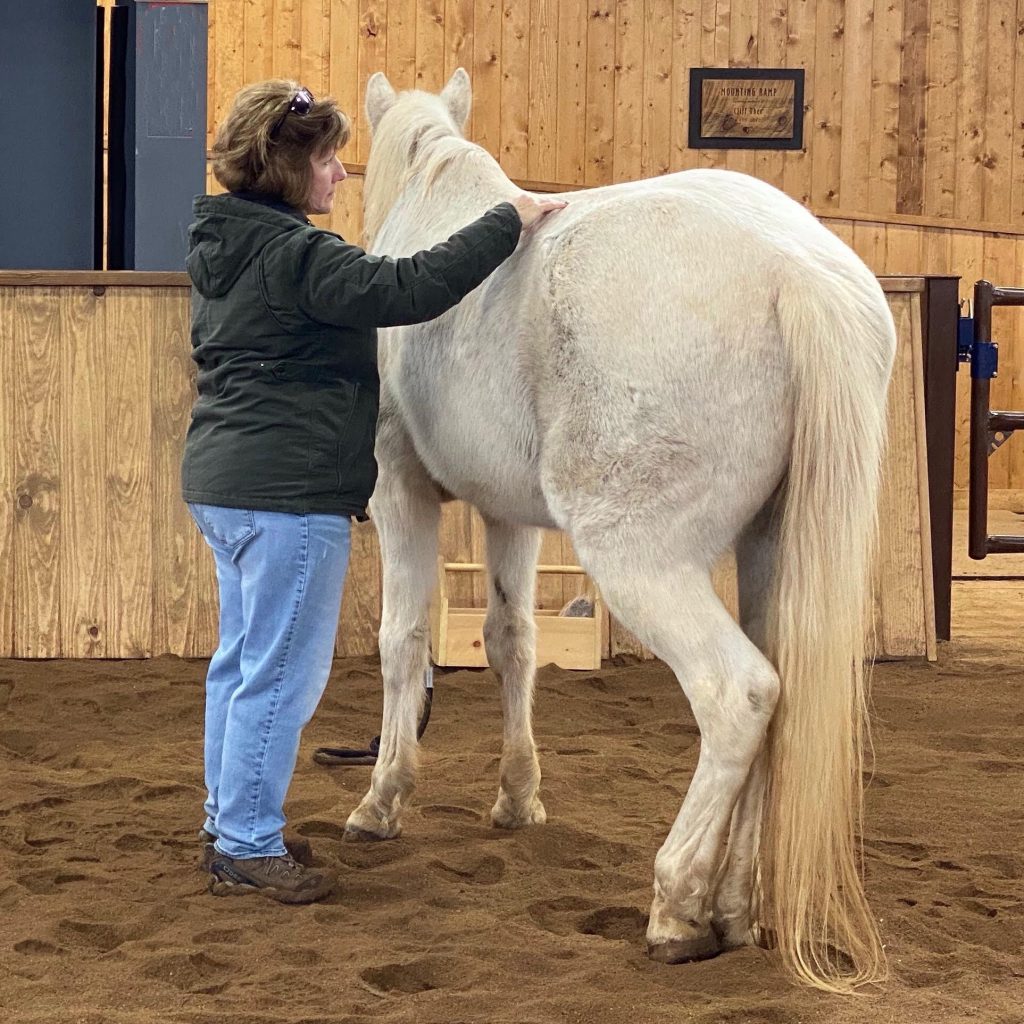 Since that time, Lise has led many trainings with 70 students and Masterson Method Equine Specialists who've completed both training and experiential fieldwork. I recently interviewed Dawn Rick, a recent Masterson Method Equine Specialist who owns and operates a small therapeutic riding operation in eastern Iowa. She mostly works with military veterans as a certified therapeutic riding instructor through the International Professional Association of Therapeutic Horsemanship (PATH Int'l). Dawn came to The Masterson Method® on account of one of her horses having a mysterious lameness. When a local Masterson Method bodyworker helped her horse where the veterinarian could not, she was intrigued and decided to attend the Beyond Horse Massage Weekend Seminar. When Dawn learned of training to use The Masterson Method® for therapeutic riding students, she thought to herself, "What a perfect match!"
Dawn shared about how she's using The Masterson Method® in her program: "What I like about helping students/veterans do the Bladder Meridian Technique is I can do it on days when we have bad weather, or if the rider isn't up for riding. It's a good fill-in when you can't do an activity that you normally planned on doing. It benefits the horses, it benefits the clients. So it's kind of a win/win." Having experienced first-hand how calming doing The Masterson Method® was, Dawn said that teaching her students this kind of equine bodywork, "would be a huge door opening for people to help the horse and at the same time be engaged themselves." Just last week, when Dawn offered a veteran/student to take her horse for a walk, the veteran asked if she could do the Bladder Meridian Technique instead. She says, "It's interesting how veterans/students have responded. Riding is more about them. Doing the Bladder Meridian Technique is really about the horse and this blows them away. They want to help the horse." When I asked how her horses have benefitted, she said, "They've become more trusting of people. I see something different in how they look at people. One horse is not as reserved as he used to be."
Dawn has a vision to teach a cadre of U.S. veterans and then bring them to riding barns in the area to offer The Masterson Method® Bladder Meridian Technique to lesson horses as a public service. She's in the early stages of making that vision come true as she's planning to visit BraveHearts, the largest equine-based program in the United States serving military veterans, to begin discussing the possibilities. 
Dawn has another goal: to become a Masterson Method Certified Practitioner. And like me, she's looking at retiring from her day job and devoting her days to equine bodywork and teaching.
If you are embarking on a journey with The Masterson Method®, keep in mind that therapy, rescue and lesson horses all need this work too! You might offer to volunteer or work at an EAAT facility to help horses do their jobs, with people with disabilities or mental health goals, better than ever. And if you have an interest in helping people, you might consider adding on to your learning with the Masterson Method Equine Specialist certification. It's easy to complete and benefits both horses and people.
For myself, each day I work on a horse I carry the energy of compassion, patience and deep listening throughout the evening. I often find myself spontaneously thinking of that horse as I wash dishes from dinner or drift off to sleep. My energy is calmer, and more organized internally and I feel like a better parent, friend, and spouse. The power of this work is probably more far reaching than we consciously realize.