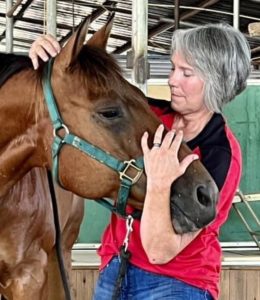 Horses have always been a part of Alice's life. (French pronunciation: "Alease") As a little girl, Alice took every opportunity to be around horses at the local stable, where she developed a love not only for riding, but the animal themselves. This love for horses is what ultimately inspired her to pursue a path in equine bodywork and bringing wellness to equine partners.
Alice began her journey by first becoming a Certified Equine Sports Massage Therapist. Her work as a CESMT allowed her to help many horses by using traditional massage techniques and modalities. However, Alice was not done in her pursuit to further her skill and education in this area.
Next, she took on the role of a Masterson Method® Certified Practitioner which enabled her to affect the deeper muscles, releasing tension in the key junctions of the horse's body that most affect performance. Alice also obtained certification as a Masterson Method Equine Specialist, allowing her to help create positive change in the lives of people and therapy horses by teaching program staff, volunteers, and participants how to practice very basic, yet highly effective principles of The Masterson Method®.
Alice is passionate about and gifted in teaching others interested in becoming a Masterson Method® Certified Practitioner. She is both a Coach and Mentor for students of The Masterson Method®. Alice also conducts Interactive Demonstrations, where attendants learn basic Masterson Method® principles and techniques.
Committed to bettering the lives of the horses she meets, Alice also uses therapeutic grade essential oils in her practice for aromatherapy, the Equine Raindrop Technique, and the Emotional Release.
Alice's knowledge and skill set is centered around helping your horse feel and perform his best with both a physiological and emotional emphasis.