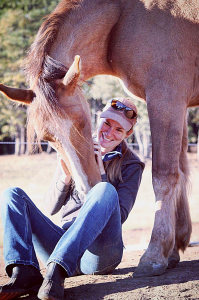 My name is Jenna and I am lucky enough to live and work at Ekone Ranch, a multi-faceted organization in the Columbia Gorge area, in rural Washington.  Ekone is home to Sacred Earth Foundation, a nonprofit land trust covering 1,138 acres.  White Eagle Memorial Preserve, one of only a handful of natural conservation burial grounds in the country and, Covid aside, we host retreats, field trips, and summer camp for kids and teens.  I found my way here for the first time in the summer of 2001 as an eleven year old summer camper.  Drawn by one thing and one thing only, the horses.  I confess, I'm a serial horse girl (I'm sure some of you can relate). Long story short, I'm still around and nineteen years later, I manage our herd of 15-20 horses, work with our horses, volunteers, guests and wrangle spreadsheets in the office.
This summer, for obvious reasons, we had to overhaul our summer plans since we couldn't have summer camp as usual.  We offered four-day family camps, in which people could come and experience the land and the horses and everything that Ekone is, all while staying within their family bubble.  At the beginning of the summer, we offered socially-distant riding activities during these family camps, however, with Washington case numbers rising and mandates and restrictions amping up, it just didn't seem feasible to keep riding and also stay compliant.  So, we changed plans again.  We stopped riding, and then I had to figure out something I could do with people and horses that didn't necessitate being quite as close to them for quite as long.  So, Masterson Method bodywork, it was!
I was a little nervous going into it.  I know I love spending time with horses on the ground but I didn't want to disappoint or underwhelm anyone so I gave it a shot, anyway.  We had a surprising number of people show up to our first session, so many that I had to get out one more horse.  I had the support of a couple of other horse staff, who had already done some basic techniques with me before, so they could also help with one-on-one coaching.  I taught our guests the Bladder Meridian.
A few of the kids were even practicing that afternoon during some non-demanding horse hangout time out in the corrals with them!  Sharing something that is so important to me and being met with so much enthusiasm was incredible, and these weren't even "horse people"!  I got to teach a mother, her oldest daughter who has come to camp for a few years now, and even her four year old!  Yes, a four year old!  (Who, admittedly, didn't have the longest attention span for bodywork, but she enjoyed it and it was magical!)  I don't have pictures of that day (we try not to carry our phones on us as it's so much easier to be present without screens, and I didn't have a camera on me) but I will never forget it.  I will, though, include a photo from another weekend, of a long-time summer camper-turned-teen-volunteer named Ruby trying out BM with our quarter pony, Leo.  I'd say he was into it!

We continued to offer Bladder Meridian teaching sessions during the rest of our family programs of the summer and I have to say, that opportunity was one of the hidden gems of all of the changes we've had to make to keep up with Covid's penchant for havoc-wreaking.
I really cannot thank you enough for your part in this journey, Jim, Jo, the Masterson team, and Beckie Haynes, who taught my Weekend Seminar last November!  It was an honor and a delight to pass on some of what I've learned so far, and I can't wait for Sandy's five-day in February!
For information on bringing The Masterson Method® to equine-assisted service programs, visit our Equine Specialist Course.