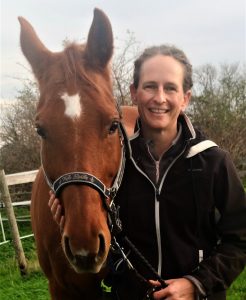 Mein Leben ist seit meinem 4. Lebensjahr mit Pferden verbunden. Ich bin quasi im dörflichen Reitverein aufgewachsen und habe dort in den 80ern und 90ern alles erlebt, was man sich vorstellen kann. Mit 16 bekam ich mein eigenes Pferd, einen 4-jährigen Hannoveraner, der mich die nächsten 21 Jahre begleitete und mir viel beibrachte.
Mein reiterlicher Schwerpunkt liegt in der Dressur, aber ich war schon immer offen für Einflüsse aus anderen Reitweisen, um das Pferd möglichst optimal zu fördern. Auch gymnastizierende Bodenarbeit und Kommunikation am Boden sind für mich wichtige Werkzeuge im täglichen Leben mit dem Pferd.
Nach dem Abitur wollte ich Tiermedizin studieren oder Pferdeosteopathie lernen.
Für das eine war mein Abi zu schlecht, für das andere brauchte ich damals eine medizinische Vorbildung. Also lernte ich Physiotherapie für Menschen, um später einmal eine Ausbildung am Pferd anschließen zu können.
Nach dem Physio-Examen folgte im Humanbereich erst "Manuelle Lymphdrainage", dann eine 5-jährige Ausbildung zur "Craniosacral-Therapeutin", die Prüfung zur Heilpraktikerin und nach 18 Berufsjahren quasi als Refresher-Kurs die Prüfung für die "Manuelle Therapie".
Danach kam der Zeitpunkt, den Bogen zu den Pferden zurück zu schlagen.  Die Masterson Methode kannte ich schon seit 2015. Die DVD hatte ich seit dem zu Hause, und ich war sehr begeistert von seiner feinen Art, mit dem Pferd zu arbeiten.  Sie passt gut zu meiner Weise, Menschen zu behandeln, denn durch die Cranio bin ich es gewohnt, in den Menschen hinein zu spüren und meistens schmerzfrei zu arbeiten.
2020 begann meine Reise mit Masterson Method®.  Je länger ich mich damit beschäftigte und die Feinheiten in Kursen und Coachings lernen durfte, desto sicherer war ich mir, dass dies für mich die perfekte Art ist, mit Pferden zu arbeiten. Es ist auch aus physiotherapeutischer Sicht so sehr effektiv, wenn der Körper erst entspannen kann, bevor man Bewegung in einem Gelenk verlangt oder Gewebe manuell bearbeitet.
Das Einbeziehen des Parasympathikus als ausgleichenden und beruhigenden Faktor, durch den die Selbstheilung des Körpers überhaupt erst aktiv werden kann, ist ebenso in der Cranio-Arbeit ein wichtiges Thema.
Es macht großen Spaß, erleben zu dürfen, wie ängstliche, nervöse oder angespannte Pferde in der Session entspannen und sich öffnen können, in Kommunikation mit dem Menschen treten, und gehört werden, bevor sie deutlich körperlich werden müssen (beißen, treten, wehren, weil die feinen Signale vorher oft überhört wurden).
Und nicht zuletzt begeistern mich die rein physischen Verbesserungen der Pferde, die sich in Rittigkeit und gesteigerter Leistungsbereitschaft zeigen, egal in welcher Disziplin, oder welcher Anspruch an das Pferd gestellt wird.
Neben der Bodywork darf auch eine Körperschulung des Pferdes nicht zu kurz kommen, damit es seine wiedererworbene Mobilität optimal nutzen kann. Deshalb sind gymnastizierende Übungen als Hausaufgabe durchaus sinnvoll.
Seit Oktober 2022 arbeite ich im Rhein-Main-Gebiet und im Umkreis von ca. 35 km um 65468 Trebur. Nach Absprache für Sammeltermine (mindestens 2-3 Pferde) fahre ich auch weiter, oder kann Termine im Pfälzer Wald ( Kaiserslautern, Dahn, Annweiler, Landau) und dem Saarland anbieten.
English:
My life has been associated with horses since I was 4 years old. I practically grew up in the village riding club and experienced everything you can imagine there in the 80s and 90s. At 16 I got my own horse, a 4-year-old Hanoverian, who accompanied me for the next 21 years and taught me a lot.
My riding focus is on dressage, but I have always been open to influences from other riding styles in order to promote the horse as optimally as possible. Gymnastic ground work and communication on the ground are also important tools for me in everyday life with the horse.
After graduating from high school, I wanted to study veterinary medicine or learn equine osteopathy.  My high school diploma was too bad for one, for the other I needed a medical background. So I learned physiotherapy for people in order to add horse therapy later.
After the physio exam, manual lymphatic drainage followed in the human area, then a 5-year training course as a craniosacral therapist, the examination as a Heilpraktiker"/naturopath and after 18 years of work as a kind of refresher course, the examination for manual therapy.
Then came the time to return to the horses.  I found the Masterson Method® already back in 2015. I've had the DVD at home ever since and I was really impressed by his fine way of working with the horse.
It goes well with my way of treating people, because through the cranio I'm used to feeling into people and rarely working to cause pain.
In 2020 my journey with Masterson Method® began.  The longer I dealt with it and was able to learn the subtleties in courses and coaching, the more certain I was, that this was the perfect way for me to work with horses. It is also so very effective from a physical therapy perspective, when the body is allowed to relax before requiring movement in a joint or manually manipulating tissue.
The inclusion of the parasympathetic nervous system as a balancing and calming factor, through which the self-healing of the body can become active, is just as important as in cranio-work.
It is so much fun to experience how anxious, nervous or tense horses can relax and open up in the session, communicate with people and be heard before they have to become clearly physical (bite, kick, fight, because the fine signals were often overheard beforehand).
And last but not least, I am enthusiastic about the purely physical improvements in the horses, which are reflected in their rideability and increased willingness to perform, regardless of the discipline or the demands placed on the horse.
In addition to bodywork, the horse should learn to optimally use it's regained mobility. Therefore, gymnastic exercises as homework make sense.