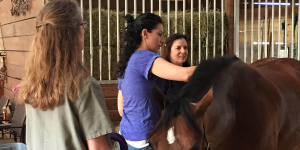 We are always looking for equine-assisted activity or therapy (EAAT) facilities to host the 3-day Masterson Method Equine Specialist training. There are many benefits to hosting, including one free seat at the training!
Please carefully read the requirements and benefits below, and then download, complete, and email the host application to mmes@mastersonmethod.com. Questions? Contact us at mmes@mastersonmethod.com.
MMES Facility Requirements
Program. The facility must offer EAAT programming, such as therapeutic riding, therapeutic horsemanship, equine-facilitated mental health or coaching, etc. Ideally, the facility is also interested in offering Masterson Method bodywork for their horses and/or Masterson Method bodywork as an equine-assisted activity for their students, participants or clients.
Horses. We will need 8-10 horses in good condition and with good stable manners. Ideally, the facility has a combination of horses that serve in EAAT programs and horses with other jobs (pleasure, lessons, performance, etc.). All horses need a nylon or leather halter and lead (please no rope halters for this clinic, if possible). Pregnant mares, stallions, and horses under the supervision of a veterinarian will not be permitted.
Demonstration area. An open arena or paddock area will be needed for group presentations with horses. In addition, it may be helpful to have an area no smaller than 12′ x 12′ enclosed by two or three sides such as a wash stall, a large aisle, or grooming stall, where training participants can watch the techniques demonstrated, but where the horse is partially contained.
Stalls. We may need stalls that are easily accessible to participants and contiguous or all in one block or area. The number of stalls will depend on the number of horses required for the training. Horses may be in stalls during the training.
Stalls. We may need stalls that are easily accessible to participants and contiguous or all in one block or area. The number of stalls will depend on the number of horses required for the training. Horses may be in stalls during the training.
Meeting and lunch area. This area shall be a comfortable area where participants can eat their lunches. This area could be a lounge or room where everyone can sit, or the end of an aisle with seating arrangements separate from the working area. Students will be encouraged to bring their lunches and snacks with them. This area may also be used during the weekend for group discussions.
Drinking water for students. Host agrees to provide water for all the students in the training.
Condition of facilities. Horses, demonstration area, stalls, and meeting and lunch area shall be presented to participants in a clean and orderly condition by 10:00am am at the beginning of each day. The host is responsible for the condition of facilities at the end of the training.
Promoting training. The host must help "spread the word" to fill the training. We provide a flyer and additional materials for you to share via your website, Facebook page, e-newsletter, barn bulletin board, local tack shops, etc. We need a minimum of 7 registrations to proceed with the training.
It's nice if the host can provide a room for the instructor and transport her to and from the airport (not required). You'll get to know our instructor and have a little extra time with her to ask questions!
MMES Host Benefits
As a benefit, you will receive free attendance in the training (for you or one of your staff provided you/they have at least two years of experience safely handling horses) once you help secure 7 paid registrations.
Horses used during the training will experience the benefits of The Masterson Method.
Meet other like-minded horse enthusiasts and equine-facilitated programming professionals who enroll in the training at your facility.
Your facility may be connected with individuals who pursue certification and may wish to offer Masterson Method facilitated bodywork sessions in the future, broadening your services to clientele.
Your facility will receive recognition since we will post the event with a link to your facility on our calendar page, newsletter, and Facebook page.
MMES Host Support Kit
Masterson Equine Services will provide you with a Host Support Kit that includes—
A customized flyer for you to print and distribute.
A checklist with ideas of how to spread the word of your training, which you can check off as you go.
A pre-written press release for you to give to local news media or for your website or social media.
A social media "how to" easy instruction sheet for creating Facebook events and inviting your friends.
High resolution image files of previous seminars and trainings illustrating the Masterson Method in action for use on your website, social media, etc.
MMES Host Application
If you are interested in hosting a MMES training or have questions, please download, complete, and submit our MMES Host Application to mmes@mastersonmethod.com. Questions? Please contact us at 651-788-6259.