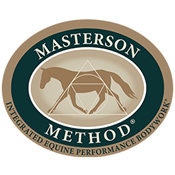 The majority of Wendy Shaffer's clients are located in the Northeastern Ohio/Western Pennsylvania region. She also enjoys traveling to other locations on a case by case scenario. The most common question Wendy is asked by horse owners is "how do I know if my horse needs you to work on him?" The most simplistic answer is "all horses and ponies benefit because of their survival nature to hide any type of weakness". This causes tension to build in the body, which begins to hinder range of motion and performance long before it is visibly noticeable. An alert rider might even detect a slight change in behavior well before a lameness issue appears.
Wendy's exposure to the Masterson Method occurred in 2010, when she hired a traditional equine massage therapist to help Taffy, her childhood Morgan mare, stay supple and pasture sound in her 30's. After a short amount of time, the therapist discovered and introduced the Masterson Method. Tremendous improvements in Taffy's mobility were instantaneous and years seemed to roll back for the old girl. So much so Wendy began the coursework on her own, magnifying the 28 year old relationship between her and her best friend. Best of all, the bodywork sessions kept the mare moving another 3 years, extending her pure and happy pasture life.
Wendy's path to becoming a Masterson Method Certified Practitioner is a very personal one, although it does not stand alone. Anyone glancing through the MMCPs biographies can see the re-occurring theme that boldly states the need for a modality to help horses when they whisper "I need something more, something better". You found this page… your horse is whispering AND you are listening… now you just need to experience the difference.