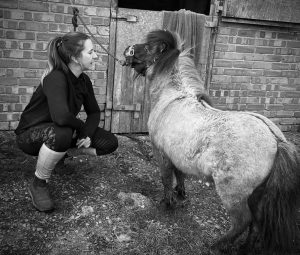 Being with horses has been one of the few things that has ever come naturally to me.  After years of riding lessons, I finally got my own pony after happily sacrificing some savings that were supposed to be for my future.  Looking back now it feels like that was just a good investment, even if it's taken me a bit of a roundabout way to get here!
I was never competitive and Pony Club wasn't for me; I was going to be a "horse whisperer" or stunt rider …as it turns out I became neither but everything happens for a reason, right? I just always wanted to do my best, and help my pony be the best he could.  That approach has never left me. When I was introduced to the Masterson Method® it was like finding the missing part of the puzzle. When I practice, I have never felt more where I should be.
At the moment I'm still working to transition from the day job, but if you're based within 30 miles of RH1 in Surrey, Sussex or Kent and would like me to visit your horses, please get in touch and I would love to visit you if I can.
Gehælan: to heal, comfort, make whole (Old English)