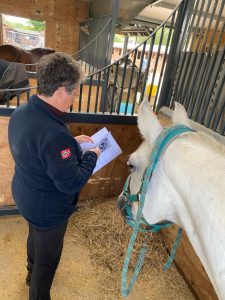 Hi – my name is Sarah and my passion is working with the horses and ponies in my community here in Norway regardless of their breed or discipline, which in turn drives me in my work as an MMCP.  
I was bitten by the bug at a young age but my career, marriage and children took me in another direction and I had a short break from horses. I returned to horses when time allowed and then in 2014 work commitments meant that we relocated from the UK to Norway with Harvey my horse, our dog and my Husband, leaving our children, family and friends back in England. 
I found a passion in the holistic approach to caring for Harvey and learned techniques from my vet and Harvey's therapist. He certainly benefited from what I learned studying the Masterson books and online videos. In 2022, Harvey peacefully at the ripe age of 28 passed away and he gave me drive to become an MMCP and I continued my education in alternative therapies that fit alongside the Masterson Method®.
I work with a wide range of horses from the companion Shetland, native breeds working in harness and ridden, trotters, dressage horses, show jumpers, family mounts and young stock. I am willing to collaborate and be part of the bigger team to keep your horse happy and healthy in body and mind.