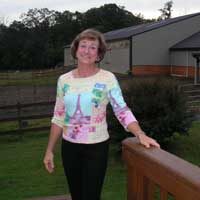 Sally was born and raised in San Antonio, Texas, and has been around horses most of her life. Her passion for horses began at an early age.
Sally was an Army dietitian for 30 years with a focus on fitness and nutrition, and a Feldenkrais ™ Practitioner for 5 years. After retiring from the military, Sally decided to pursue her dream of riding upper level dressage. She has competed nationally as an amateur rider at 3rd level and is currently riding 4th level. The Masterson Method has brought to Sally a new way to understand her performance horses, influenced her riding technique, and helps her to keep her horses performing at their best.
The training in the Masterson Method has opened wide the door to an understanding of the level of feel possible between horse and human, both on the ground and in the saddle. Partnering with the horse in this work is essential to achieving results. The horse as a participant, serves to make this work so effective and deeply satisfying.
The key for Sally was the "lightness" of both the Masterson Method® and Feldenkrais Method™ (less is more). The Masterson Method has brought the bodywork to a whole new level.
Sally's training in nutrition and fitness, the Feldenkrais Method™ and the Masterson Method® allows her to provide practical, hands-on expertise for horses and riders at all competitive levels, as well as for pleasure riders and their mounts.