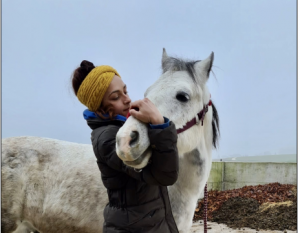 Since I was a child, I always wanted to work with horses and my big dream was to become a masseuse. When I attended a school in this field in 2016-2017, it was too superficial for me. I wanted more. In 2018 I did an introductory course in The Masterson Method® and knew: this is it.
I was fascinated by the fine approach Jim showed in his work. I felt like he was in another world with the horses, like in his own bubble.
As I progressed in my formation I gradually noticed the transformation of the horses I took care of. They became more open, more expressive and moved much more relaxed and balanced.
In 2021 the time had finally come: I held my certificate in my hands. My goal now is clear: I want to help more horse and rider duos to more harmony. Where does this begin? In the lightness of body and soul, to which The Masterson Method® can make a great contribution.
Facebook: Naïmateixeira_mmcp