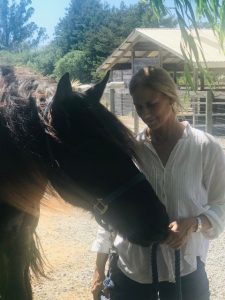 Murielle Richard-Price was born of French parents in the United States. She began her lifelong passion for horses at an early age, taking lessons and caring for horses at every opportunity. She spent every summer in France on family farms where horses, riding and breeding were the norm. By her teens she was riding in stag hunts in the forests of Normadie. In the US, from 11 years old on, she spent most days after school bareback riding in the golden hills of Northern California with a posse of girls (sometimes coming into town to ride through the drive thru at Jack in the Box). Not until the 5th equine (several ponies and free to good home horses) did she have a saddle, and only because it came with the horse.
Her entire family is very involved with horses: she and her immediate family own an equestrian center, her sister is a horse trainer, one cousin is a Cadre Noir at Saumur France and author of two books on riding, and another cousin was on the French Olympic Jumping Team (at the Athens Olympics).
As a horse owner she also had to deal with some serious health issues with several of her horses and she became interested in equine massage and bodywork and its implications for performance and behavioral issues. After taking some Equinology courses in anatomy and massage, and concurrently a Weekend Masterson Method® Seminar, she knew that her path was to become a Masterson Method® Certified Practitioner. She has taken courses in equine anatomy and massage (Equinology), Equine Biomechanics (Hilary Clayton), Saddle Fit (Dr. Kerry Ridgway and Jochen Schleese), Dr Kerry Ridgeway's Asymmetry-Shoeing Dynamics Course and Integrative Veterinary Medicine for Musculoskeletal Problems Course, Guelph University Equine Nutrition Course, several whole horse dissections (one with Dr. Deb Bennett), attended several of Dominique Barbier's Symposia, ridden in Mary Wanless clinics, attended one and organized the other Gerd Heuschmann 3-day symposia/riding clinics.
In 2014 she was hired by Schleese Saddlery to represent the brand in Northern California, and in 2016 she was offered the position of Director of Education for Saddlefit 4 Life, where she works closely with Jochen Schleese to organize and teacher-aid in his North American Equine Ergonomist Courses. In addition, she oversees the externships of students on their way to becoming certified. In 2017, she returned to the Vluggen Institute of Osteopathy to continue what she had started in 2014. Currently she is on track to graduate with an EDO in 2020.
Murielle feels it is important for people to understand that not all bodywork is created equally. What is beautiful about The Masterson Method® is that the horse participates and she has yet to find a horse who doesn't benefit from it, and for some it is life changing. Horses let go of traumas and wear and tear from the past and recent times in their lives, which are being stored in their bodies and affect their willingness and ability to move correctly. She feels that when you provide your horse with consistent bodywork, add correct riding & training, correct saddle fit, and don't keep him in a stall a lot, you can get to that place we all seek: you and your horse in harmony and oneness.