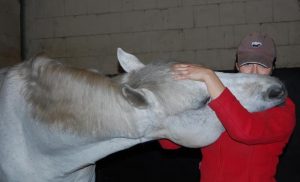 Monika was born in Poland where she now lives.
Her horse adventure dates back to her childhood days and has been going on for as many as 25 years now. During that time she went through all the stages of a horse-rider's career, starting from a recreational rider, thorough a sports horses riding helper, a professional rider and a riding coach ending up as to a barn manager. Besides working with horses, she also deals with hippotherapy. Her attachment to the horses under her care prevented her from going to study veterinary medicine.
In 2001 she graduated from the Faculty of Animal Breeding and Biology at Natural Sciences University in Pozna?. Afterwards, she was totally engrossed in her work at the stables. Her real dream, however, was that of bringing help to horses, which led her to Jim Masterson. As soon as she got an initial idea of his method, she realized she was on the right track to fulfilling her dream. By taking part in the course she hit the bull's eye.
At present, she is covering hundreds of kilometers working with a whole range of horses including the sports ones, recreational ones, elderly ones, rescued ones, injured ones, and those undergoing rehabilitation.
Thanks to the Masterson Method™, horses are being helped not only physically, but also mentally. Monika very often works with horses from mental trauma and helps them to regain confidence in the people.
In order to eliminate the negative factors affecting the horse body, Monika cooperates with a farrier, a saddle fitter, a Silversand Horsemanship instructor and with Dr Gerd Heuschmann. Owing to his knowledge concerning horse biomechanics and training, Monika tries to make riders realize the extent of the influence their riding style exerts on a horse's psycho-physical condition.