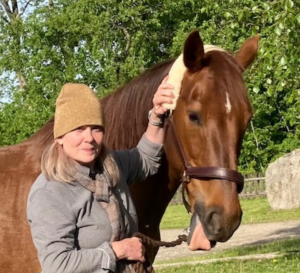 Louise grew up in Lund, Sweden and has had horses as her best friends since childhood. She got her first horse when she was 14 and learned Equine Sports Massage in the 1980's, inspired by Jack Meagher with mostly firm and deep pressure techniques.
Her love for just and ethical welfare for horses led her to explore other modalities. Her goal was to find methods to relieve pain and discomfort for these hard working and always kind and cooperative animals. She discovered Masterson Method® while searching the internet and found that she could complete her hands-on courses in the UK countryside.  She has been a certified practitioner since 2015 and she is also a trauma therapist. The less is more approach of The Masterson Method® harmonizes beautifully with her philosophies and her love of working with horses.
During lock-downs and times of restrictions she has been offering sessions through zoom which has widened the possibility to connect with horse owners and spread comfort and benefits for horses.
Louise currently rides her two Swedish Warmbloods, happily living on a free range pasture.