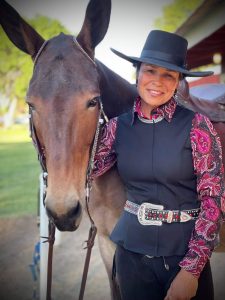 LONI LANGDON LOVES LONG-EARS!
Loni's interest in mules and equine bodywork started when she was a guide and packer in Yosemite National Park. When she was first introduced to the Masterson Method®, she could often be found in the corrals after a long days work with the mules in her care. They would literally line up to receive her hands on attention! What could build a better relationship with her long-ear coworkers than helping them release tension and be more comfortable doing their jobs?
In 2007, Loni adopted a pack mule named Feather while apprenticing for a natural horseman. The combination of training and bodywork, helped Feather carry Loni to a 2013 year-end championship with The America Mule Association. Recently, Loni and her newest mule love Fanny Mae have shown to top placings at Bishop Mule Days Celebrations in Western Dressage, Pleasure, Trail and Ranch Classes. Loni attributes the special bond she has with her mules and their successes in the arena to The Masterson Method®.
Loni became a Masterson Method® Certified Practitioner in November 2015 and joined the Masterson Equine Services Educational Team shortly after as both a Coach and Mentor. She is a Masterson Method® Weekend Seminar Instructor for all equines but truly aspires to connect with and empower mule-centric folks.
Her business, All Equines Bodywork serves the Central California Valley. She can travel to your barn for long-ear inspired workshops or nationwide for Masterson Method Weekend Seminars. She has been a featured clinician and presenter at several national mule events.
Loni serves as the Administrator for the Facebook group Mules of the Masterson Method®. Her goal is to cultivate a community that embraces the principles of The Masterson Method®. She simply loves to empower mule owners with a gentler, DIY approach to working with and understanding the sensitive nature of their mules. 
She lives near Clovis with her husband Zack and their fur family of equines and canines. 
She can be reached at: