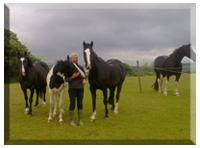 Leigh Jackson comes from a farming background from West Cornwall in the UK. She and her husband currently have 5 horses at home, 5 Jack Russell terriers and a flock of Black Hebridean Sheep!
Always keen on horses, she took her BHSAI in 1976, going on to work with HIS (Hunter Improvement Society) young stock near Ascot and whipping in for the Windsor Forest Bloodhounds (who hunted people, cross country runners). Traveling to Australia she worked on a small thoroughbred stud in the Hunter Valley, and after returning to the UK, worked in a number of yards including five years with polo ponies for Major Ronald Ferguson, polo ponies in the USA and then with hunters, eventers and in riding schools and private yards in the UK, and freelancing.
When a friend asked for help with her 'difficult' mare it introduced them both to behaviorist and equine rehab specialist, Richard Maxwell and his wife Sam, and started her on a journey into helping horses with pain-related issues.
This has led and is leading her along an exciting path of self-discovery too, as she is constantly looking to improve her own knowledge and understanding, not only of the psychology but also the anatomy and physiology of the horse. She says, 'Every horse I meet has something to teach me, and the more I know, the more I know I have to learn'.
In 2001 she qualified as a Human and Equine Bowen Therapist and started to look into equine Anatomy and Physiology in more detail, attending a course entitled 'Equine Biomechanics, Gait Abnormalities & Applied Anatomy' with Dr.Hilary Clayton DVM, MRCVS at Writtle College, Essex.
Leigh has also examined dissected human cadavers on the human Bowen course at St.Georges Hospital in London, and through that, also developed a fascination for learning through equine dissection.
All this has led to her attending other courses as rider or auditor with people such as Dr.Deb Bennett, Kate Fenner at Kanadoo Equine, Dr. Gerd Heuschmann, Gillian Higgins and her painted horse lectures, Marijke de Jong and Straightness Training (through classical principles), Ingela Larsson Smith and True Connection, and many more.
Four years ago she discovered The Masterson Method® when Jim did a 3-day seminar in Bristol in the UK and attended 3 more weekend visits until Jim started to run professional training courses in the UK, and as they say, the rest is now history.
As an MMCP, her advice to anyone starting on this method whether for their own horses or to become a practitioner, is to remember, It's ok to get things wrong, that's how we learn, and so do horses, so just remember when working on the horse 'Slow Down Lighten Up' and enjoy the journey.
Leigh covers from Lands End to Exeter area and all others in between. If people get a small group together, she would consider Dorset. She lives near Launceston in Cornwall. Covering Cornwall, Devon and will go into Somerset.