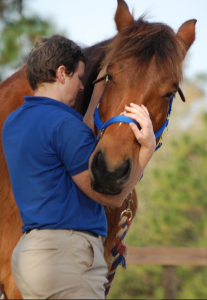 Laurel got her first horse when she was in fifth grade and has been riding and training horses ever since. Her first mare (Gracie) was a very green Arabian cross mare that really needed to release tension which she usually did while Laurel was on her back, ending in quite a few unscheduled dismounts! Looking back, Laurel will tell you that she wished The Masterson Method® was around back then! It wasn't, but luckily, she found The Masterson Method® quite a few years later when she was having difficulty with her competition horse Dexter not 'feeling' sound after a particularly bad hoof abscess.
It all started with the book. Laurel played with what she read from the Beyond Horse Massage book on Dexter and her other horses and got some pretty fantastic results: licking, chewing, yawning and even a few down dogs. Then Dexter went from moving with his head up, tense back, looking away and bucking into a canter to softly transitioning from a stretchy trot to a canter and becoming thoroughly relaxed under saddle. Laurel couldn't believe the results she got just from reading a book. And as fate would have it, there was a Weekend Seminar nearby scheduled, so she immediately signed up for that. At the weekend seminar, she couldn't get enough of the wealth of information and techniques and signed up for the Advanced 5-day course taught by Jim. Jim told her she was good at this and she should consider getting certified. She knew that he probably told everyone this, but she really didn't need any convincing. She knew she wanted to release her own tension from her corporate job the finance industry and this was exactly what she was looking for, a new career making a difference in the lives of horses and their humans. While working through the certification program, Laurel moved from NC to FL. Laurel currently resides in the Ocala area (Horse Capital Of The World) and combines her love of riding and training using positive reinforcement with The Masterson Method® Integrated Equine Performance Bodywork.
For those that want to start their own equine business, Laurel has also incorporated her 25+ years as a project manager in the finance industry into a coaching program for new equine business owners that encourages them to utilize their unique personality traits and experiences to attract clients that they love.
Facebook: https://www.facebook.com/LaurelWatsonHayRelax
Instagram: https://www.instagram.com/laurelwatsonhayrelax/