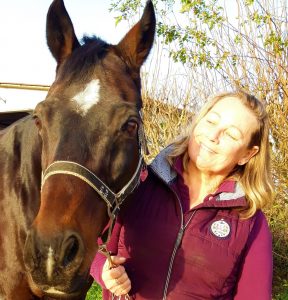 Kommunikation und Vertrauen sind für Katharina die wichtigste Zutat für ihre Arbeit mit Pferden, um ihnen die bestmögliche Unterstützung zukommen zu lassen. Ihr Weg zur Körperarbeit für Pferde führte sie zunächst zu Hanna Equine Somatics® (ausgebildet von Eleanor Criswell Hanna und Alissa Mayer) und dann zu Masterson Method®. Nach der Teilnahme am Wochenendseminar war sie sofort von dieser besonders feinen Herangehensweise, "mit" dem Pferd anstatt "am" Pferd zu arbeiten und von den tiefen Lösungsprozessen und Verbesserungen in der Beweglichkeit, die so möglich sind, überzeugt. Sie schloss die Ausbildung zum MMCP Masterson Method® Certified Practitioner in 2020 ab. 
Verspannungen lösen, mehr Bewegungsfreude ermöglichen, um fitter und leistungsfähiger bei der täglichen Arbeit oder beim Turnier zu werden oder dabei zu helfen, nach Verletzungspausen wieder einen lockeren Bewegungsapparat zu bekommen – das körperliche Wohlbefinden der Pferde sollte die Basis für jede Arbeit sein und essentiell für eine gute Partnerschaft von Pferd und Reiter. 
Katharina lebt im Taunus und arbeitet im Umkreis Taunus, Westerwald, Rhein-Main und Rheinhessen. Da Lernen nie aufhören sollte, vertieft sie derzeit ihr Wissen über Homöopathie für Pferde sowie Faszientechniken und Craniosakrale Therapie. Sie freut sich darauf, auch Dein Pferd kennenzulernen! 
Communication and trust are essential for Katharina to give horses the best possible support to stay fit and comfortable. Her journey into bodywork for horses first led her to Equine Hanna Somatics® in 2017 (trained by Eleanor Criswell Hanna and Alissa Mayer) and then to Masterson Method®. She became a Masterson Method® Certified Practitioner in 2020 –  she was and is simply convinced and thrilled by the subtleness of the Masterson Method and this special approach of working "with" instead of "on" the horse. In other words: building connection and thus allowing deep impacts and releases of tension during the process – often leading to amazing results and improvements of motion.
She loves to see horses develop – ready to perform or get back into a good condition after injuries by helping their muscular structures becoming loose and flexible – to make them (and their riders) feel good, relaxed and healthy together in training and competition. All horses and disciplines are welcome!
She is based in the Taunus region and would be happy to meet your horse around Taunus, Westerwald and Rhein-Main area as well as Rheinhessen.
As learning never stops, she is currently deepening her knowledge of homeopathy for horses, fascia techniques as well as craniosacral work.