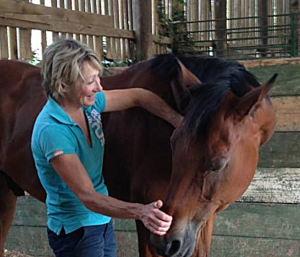 Julie's bond with horses started at the age of three. Julie has been involved with horses all her life, from working in racing-yards, riding polo ponies in Lusaka, trekking in Peru and helping on a ranch in Colorado, she brought on a rehabilitated race-horse, who was hard to home, to Affiliated Medium level dressage. She has backed and trained youngsters of which her own she successfully competes at BD Affiliated Dressage. She took on a Dartmoor pony, once crippled with laminitis, who she trained to harness, and now often drives around the Devon lanes, delighted with his new lease of life.
Julie has always been interested in Equine Physiotherapy and Biomechanics, but she first became interested in The Masterson Method® when her youngster Tom, continually experienced saddle problems, resulting in muscular pain. Eventually, her equine dentist suggested Tom may have a poll misalignment, so she researched this on-line and found Jim Masterson and his unique Masterson Method. After Julie had watched his techniques for releasing tension in the Poll and TMJ she went straight back down to her stable and tried them out on Tom – with massive response and releases – she was hooked immediately!
Within a short time, Tom began to perform much better, and the pair's dressage scores went from the low 60%'s into the mid 70%'s. He became more elevated and free in his body. As the tension within his nervous systems released he was able to work properly and Julie also found his response to aids more subtle and effective.
Julie likes the simple techniques used with The Masterson Method® – she has always had a natural affinity and been able to communicate well with horses, so understanding the responses the horse is giving using the techniques, ( which is the most important thing with this method) has come naturally.
As well as competing in affiliated dressage and teaching, Julie is also a List 3 dressage judge (one of the few in Devon), and has been judging for several years. Her keen eye for a horse's correct way of going can help spot a problem before it gets serious, as a MMCP, too, she feels that the two go "hand-in-hand" to help a horse and rider achieve their maximum potential in what ever sphere, be it show jumping , racing or purely riding for leisure.
Julie has also found great results using The Masterson Method® on laminitic ponies who often get very tight and uncomfortable in their ham-strings. Horses on long-term box-rest also seem to gain great benefits – the techniques help to keep them more supple and relaxed, and therefore, much less stressed.
Julie is a EMMETT Equine therapist.  She is a follower of Warwick Schiller, Parelli and Tristen Tuckers "TRT Method".
In Julies own words – "Since finding The Masterson Method® I have not looked back! The results are amazing. Thank You Jim!!"
She can be found on her business Facebook page under Devon Equine Empathy.