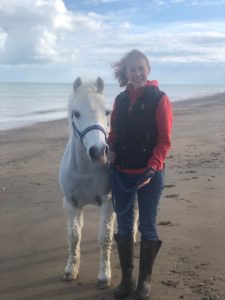 I have always had horses and enjoyed many years in the Pony Club, and then the local Riding Club.  I was fortunate enough to be part of a Quadrille team and then through my job as a firefighter, competed with my horse in the World Fire Fighting Games and Blue Lights Horse of the Year show when it came to Anitree in Liverpool.
I came across the Masterson Method® by chance on the Internet, looking for ways to help my beautiful old horse with his arthritis.  I saw Jim's videos on You-Tube and was fascinated.  I went straight up the yard and tried the bladder meridian on my second little pony who never said a word and was extremely stoic! Using this technique I got midway down my ponies' neck and his head dropped and he started yawning! I was so amazed I had to learn more.  
I bought Jim's Beyond Horse Massage book and enrolled in the weekend seminar. From here I have never looked back and now being an MMCP I am excited to be able to help horses release their tension and find their hidden secrets.  I have been very lucky to have a long career in the emergency services helping many people and animals through some of their darkest days.  I feel very honoured to add to this with the Masterson Method and be able to work with horses and help them remove layers of tension and improve their comfort and performance.