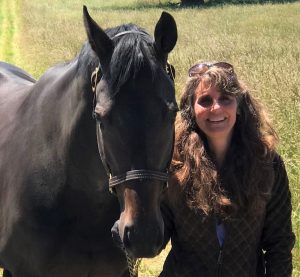 Deborah was introduced to horses at a young age, but only rode for a few years due to a change in family circumstances. A trip to meet her now mother-in-law, a horse trainer, decades later reignited her love for horses.
Deborah discovered the Masterson Method® while seeking a means to help improve the well being of her horse, Luke, after he sustained a significant injury. She was drawn to the Masterson Method® because of the soft approach and interactivity with the horse, listening to them as they guide the process.
Many times when faced with issues, she has heard people say, "I wish my horse could talk." The Masterson Method® hones your observational skills and teaches you to take note of the horse's feedback. You work with the horse, listening to their input and feedback, to help them release mental and physical tension. The result is a more relaxed and supple horse and a deepened human-equine relationship.
Deborah enjoys working with horses in all disciplines and life stages and has recently developed a particular soft spot for working with off the track thoroughbreds as they transition to their next life adventure.
Working with horses to help improve their well being is hugely rewarding! Deborah finds the greatest reward in seeing an inhibited, withdrawn, or defensive horse develop trust and confidence, which helps them to bloom to their full potential!