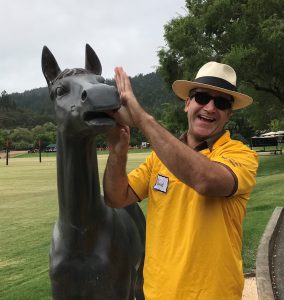 The first time I saw the Masterson Method® was at the 2017 Sacramento Expo.  I remember Jim saying, "You can get the horse to relax his poll if you place your thumb lightly on the roof of the horse's mouth; but be careful that the horse's tongue doesn't take your thumb into his molars…"  I immediately thought, I'm not doing that!  Three years later I'm trying to convince horse owners to do that very same thing.
After reviewing the Beyond Horse Massage Book and DVD I thought it might be a good idea to take the weekend course.  It seemed like an excellent way to reintroduce myself to horses and how to connect with them.  I had the good fortune to have grown up around horses and was involved with 4H as a kid.  As an adult, I have volunteered with the 4H group, H Lane Vaqueros, and helped introduce the Masterson Method to Pony Club at the Pony Club Festival (Kentucky Horse Park) in Lexington, Ky.  When I get the chance, I volunteer my time with Project H.O.P.E. a local non-profit that provides equine assisted therapy activities to assist veterans.
After taking the weekend course, I quickly realized how The Masterson Method® shares similar principles with the Martial Arts I've studied.  I found working with horses gives me another way to practice the principles of non-resistance, developing a quality of softness similar to water; I enjoy learning from the horses I work with.  I certified as a practitioner in 2021 and work with a variety of horses big and small.
I enjoy sharing The Masterson Method® with the horse people I meet and have joined the crusade to have all horses experience the Bladder Meridian Technique at least once. Contact me if you'd like to schedule a demo of the Bladder Meridian Technique or if you'd like to schedule a bodywork session.