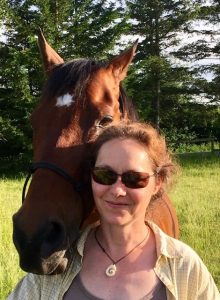 Cseni's philosophy in dealing with horses is based on partnership, understanding and respect.
She embraced Mark Rashid's "considering the horse" viewpoint. She followed natural horsemanship training methods and combined them with the fascinating communication method of 'Horse Speak' by Sharon Wilsie.
Finding Jim Masterson online and reading his book was the last piece of the puzzle for Cseni. She is now a Certified Practitioner and Coach in Masterson Method. Her practice is based on Vancouver Island, the Gulf Islands and the Lower Mainland in British Columbia.
She truly believes that practicing Masterson Method allows her to be the best possible advocate for the horse.'