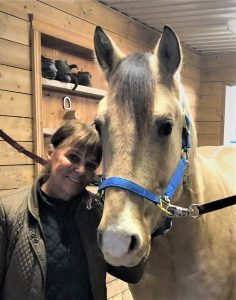 When my family moved out of the city to a century property situated in the rolling hills of Erin, Ontario, we embarked on a new hobby accumulating an impressive selection of horses and ponies which filled the two barns to capacity. We became deeply involved, breeding, training and showing horses and my equestrian efforts provided an opportunity for me to not only compete but to become a Dressage and Three-Day Event judge.
Over the years I have worked with many veterinarians, alternative practitioners and trainers to learn a variety of effective techniques to relieve pain and restrictions that tend to limit the comfort and performance of many horses. My professional career as a college professor focused on animal science and the veterinary aspects of animal behaviour and care which eventually led me to seek a deeper awareness of the importance of mutual respect and trust and an appreciation of the "power of touch."
As a certified practitioner, I can accommodate many behavioural and physical needs of various species and individual animals through the blend of modalities that I offer in my In-Sync Équine and Canine Body Balance services:
Equine Massage (ECMT}
Reiki (Master)
Equi-Bow (CEBP)
Equi-Tape (CETP)
Therapeutic Touch (TT)
Canine Bowen (ABTP)
Photonic Lights
The Balanced Hoof
Dolphin Microcurrent
Sure-Foot Murdoch pads
Cranio-Sacral
MASTERSON METHOD® (MMCP).