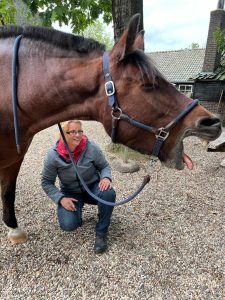 Interested in horses from an early age, I competed in dressage competitions and trained as a (dressage) instructor and became a dressage judge. I also enjoyed taking outdoor rides.  Always looking for more knowledge, I became acquainted with instructional psychology and followed the training to become a Horse Profile Coach and a Rider Preferences Coach Level 3. 
The picture was not yet complete for me because I felt I could not help the horses enough. I trained as an equine sports masseur, but my horse at that time, a Thoroughbred, did not always like the techniques of sports massage. During that period, the first weekend seminars were just being organized in the Netherlands and I attended them out of pure curiosity.  Due to illness, it took a while before the journey could continue, but it has now been completed. And what an amazing trip it has been. 
My current horse also benefits from the Masterson Method®. She is a puzzle, but piece by piece we solve a problem, and the Masterson Method has already provided much improvement for her. The positive change in a horse after treatment with the Masterson Method makes me happy every time. I've even tried the Masterson Method with some students and if they can relax, it works for the rider too! Treating horses and being able to guide them further in training, as well as teaching the rider, completes the picture for me. 
Steenwijk, Overijssel , Netherlands