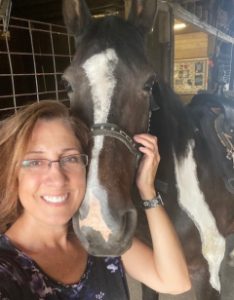 I can't remember a time in my life I didn't love horses, from pony rides, to riding lessons as I got older.  My dream of owning my own horse was finally realized at age 40! As a hairdresser for years, I knew how important contact was in communicating comfort and addressing tension, it's not always about the hair!
I was Introduced to The Masterson Method® by an equine chiropractor, who was using this method on my horse, and when she told me I could learn how to do it too, I said, "What?! Sign me up!"
I began with a weekend workshop, and as I worked with various horses I realized how relaxed I became as well. Having a son who is a veteran, I began to think about how soothing this bodywork was for the horse and the human.  I was thrilled to learn about the opportunity to become a Masterson Method Equine Specialist and have completed my certification this year. What a wonderful gift to be able to give a horse and a participant in an equine therapy program!  I am excited to continue on my Masterson journey.