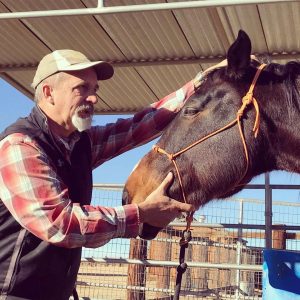 After a 25-year career in outdoor and adventure education, Will returned to horsemanship when his daughter began riding lessons. While grooming a lesson horse, the trainer asked Will how he managed to pick the hoof of a horse that never allowed his feet be handled.  The trainer suggested getting trained in equine bodywork, so Will became certified in Equine Massage.  Will began building an equine massage practice, however, something was missing.  Meeting Jim Masterson at the Western States Horse Expo changed everything. The Masterson approach and respect for the horse's natural response to pressure and release resonated with Will and he began his Masterson journey.
Will provides Masterson Method Bodywork and nutritional consulting for horses throughout Southern California, working with all breeds and disciplines.  From backyard horse owners to Grand Prix competitors and every horse in between. Will studied Equine Science at LA Pierce College and specializes in equine nutrition.  As a California distributor for natural horse care products, Will believes that nutrition plays a vital role in the health of our horses. With his background in Environmental Education, Will clearly communicates connection between equine bodywork, nutrition, anatomy and physiology.
Will served as the Education Director for Thoroughbred Education Foundation, which focused on providing greater foundation training for Thoroughbred racehorses to prepare them for a successful post racing career. Will works with thoroughbred trainers, as well as off the track thoroughbreds.  When the time is right and the right thoroughbred comes along, Will intends to adopt and train at TB for ranch, trail and cattle work.
Currently, Will is the Training Director for Equine Empowered Therapy, a vocational training program for veterans interested in working in the equine world.  Teaching horse handling, grooming, training and Masterson Method techniques to veterans, EET's programs provides the skills necessary to place veterans in training and internship programs in a wide variety of equine jobs.
Based in the mountains of Topanga, CA, Will travels extensively throughout Southern California providing bodywork, competing and attending horse shows and events. Will rides in team penning and ranch sorting events, and travels to events and clinics throughout southern California.  Look for Performance Equine Bodywork at HITS Thermal and other Hunter Jumper, Dressage, Working Equitation and western shows throughout southern California.