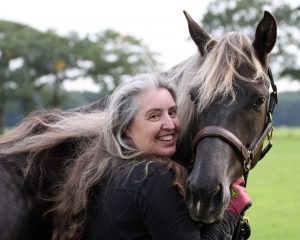 Wendy had a love for horses from an early age. At the age of 8 she received her first dressage lessons and not much later she started competing. Unfortunately, owning a horse was not an option at that time. Wendy's first horse walked in her life when she was 40– "Shadow", a Haflinger and former Dutch Champion in Western Sport. Her passion grew and so did her need for knowledge to give Shadow as comfortable a life as possible, after his sports career. It changed her way of life into a "forever learning equine student".
During her equine sports masseur training, she started looking for other options for treating sensitive horses. She found a DVD about the Masterson Method®. A few years later, Jim came to the Netherlands for a weekend seminar; she loved the opportunity and signed up. At the seminar, she was captivated by the simplicity of the techniques and the relaxation that comes with the horses. Wendy is interested in anatomy and physiology and started with the Masterson Method® to get  inspired and deepen her understanding of rider and equine biomechanics and their connection to bodywork.
Wendy likes to pass on her horse knowledge and to learn from others and combines this with her other love: traveling. That is why she regularly travels to the US for clinics, conferences, and seminars. Her toolbox of knowledge is never full enough but, she use her instruments such as: aromatherapy, animal communicator, photonic red light therapy, EFT, balance pad training, medical Taping, sports massage and of course the Masterson Method® .
For her, the contact between human and horse is the key to improving the well-being of the combination of both. She therefore guides rider and horse in their search for a top performance that suits them, whether it concerns international combinations in jumping and other disciplines. Horses big or small horses, she loves to help out.
Wendy lives in the Netherlands in a small town called Markelo together with three horses: Shadow (Haflinger), Candy (Rocky Mountain Horse) and Gucci (Morgan Horse).